OnDemand3D includes oral diagnosis, implant surgery simulation, orthodontics, comparative analysis before and after surgery, etc.
It provides a variety of functions to provide the best medical services to patients.
Why
OnDemand3D?
Convenient database management.

You can use OnDemand3D Application user's database, OnDemand3D server, and PACS server efficiently by uploading and downloading data in DICOM format

Accurate diagnosis and analysis.

It provides various features such as a powerful 3D rendering that can effectively diagnose and analyze patients, Pre and Post treatment surgery comparison, orthodontic 3D Cephalometric diagnosis, and implant planning.

Through digital planning,
Virtual simulation.

OnDemand3D's digital planning provides a variety of implant library manufactures, enabling realistic simulations, and using accurate features to avoid complications. 
Features
Our OnDemand3D™ is a highly-advanced 3D imaging software developed for dentists,
clinicians and research experts for use in the planning and simulation of patient treatment, accurate diagnosis, and advanced research.
As its name suggests, Our DBM module manages the user's Databases. Here, users can easily sort through patient DICOM data, project files, reports and attachments including image files or surface mesh data. Import/export data from a Remote PACS server, write CD/DVDs, and view STL data straight from this module. For integrated data management, don't forget to purchase X-image, which further allows you to arrange and organize patient data with everything you need in one window.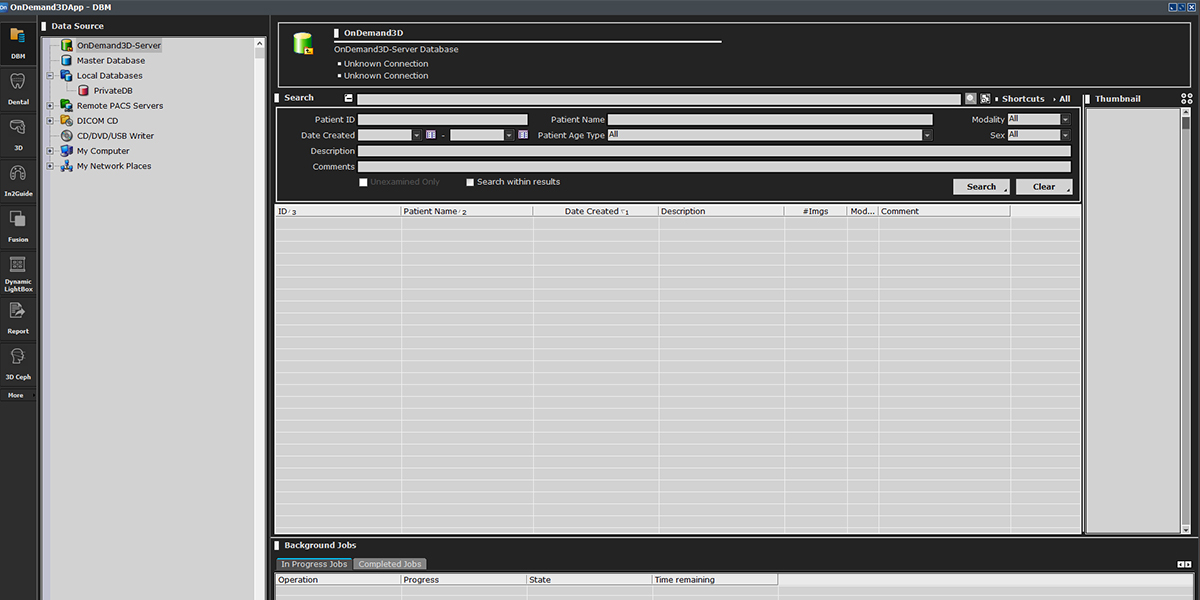 Our Dynamic Light Box is a simple image viewer to browse through slice images easily and quickly. This module provides axial, sagittal and coronal views and provides functions such as an Oblique Slice View, 3D Zoom and virtual endoscopy.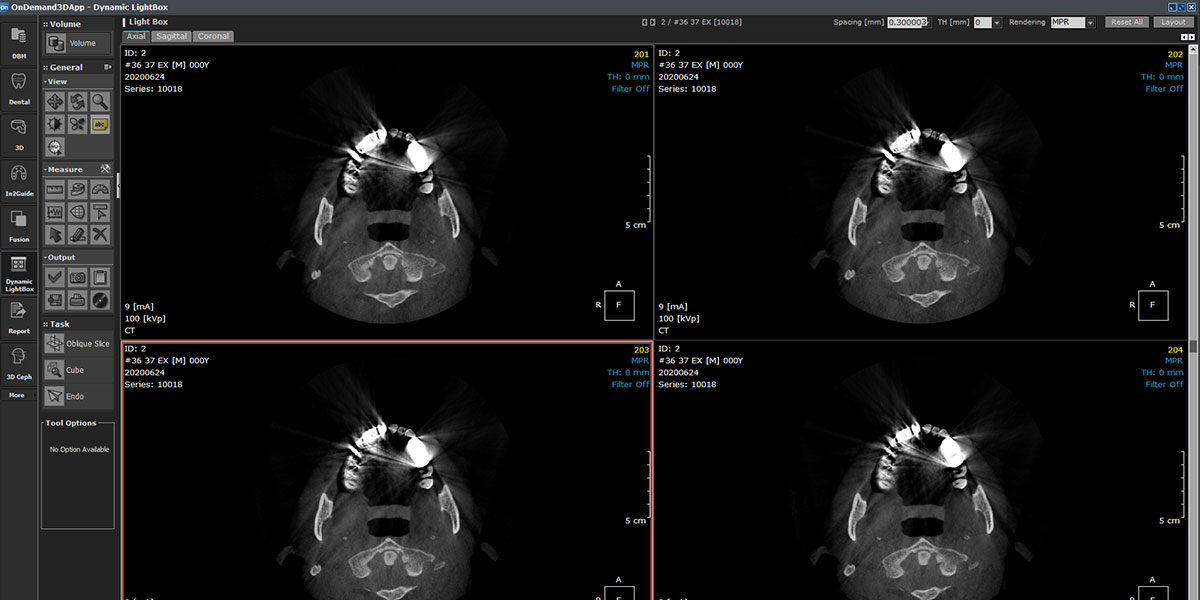 Our Report module keeps track of captured images and allows users to create quick reports in HTML format. The Report module supports the DICOM extended functions of capture, save, convert and print. Send captured images to PACS Servers or print on film, all fromthis module.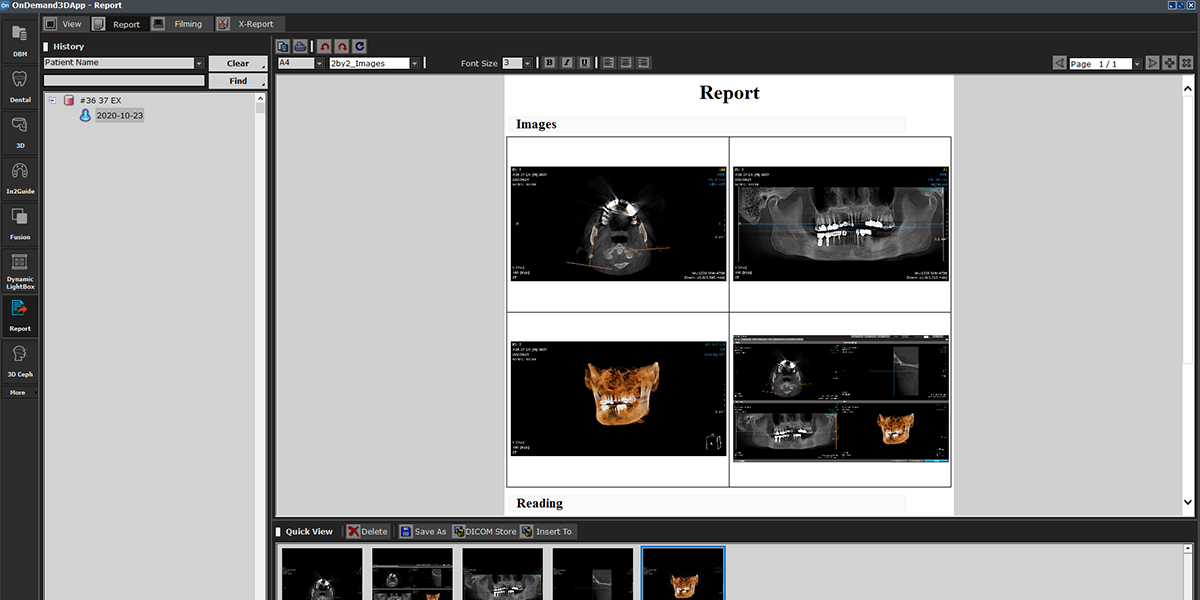 Our 3D module providesstate of the art tools for 3D visualization, segmentation, and analysis of DICOM images. The 3D module has various rendering modes such as VR (Volume Rendering), MIP, minIP, and X-ray. After segmentation, users will be able to export objects as STL data.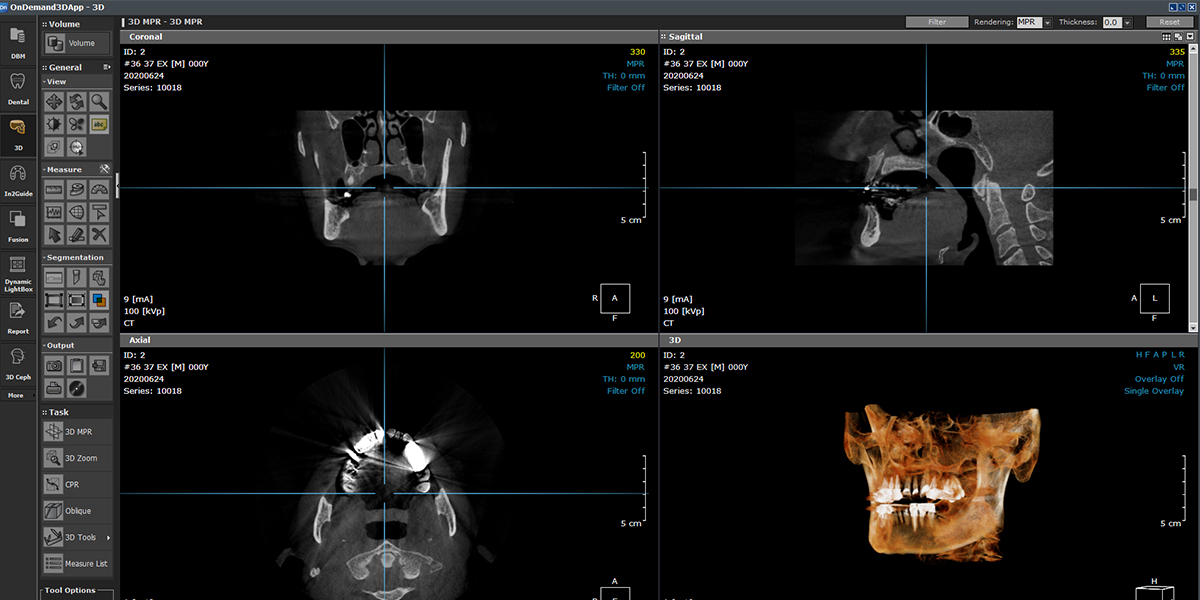 Our Dental module has all of the handy tools used for diagnosis and treatment planning including implant planning with real-size implant fixtures from major manufacturers complete with virtual teeth and every view format needed by dentists such as TMJ, bilateral TMJ, panoramic, and cross sectional views. Dental module also features 3D volume rendering, implant verification and MIP rendering functions.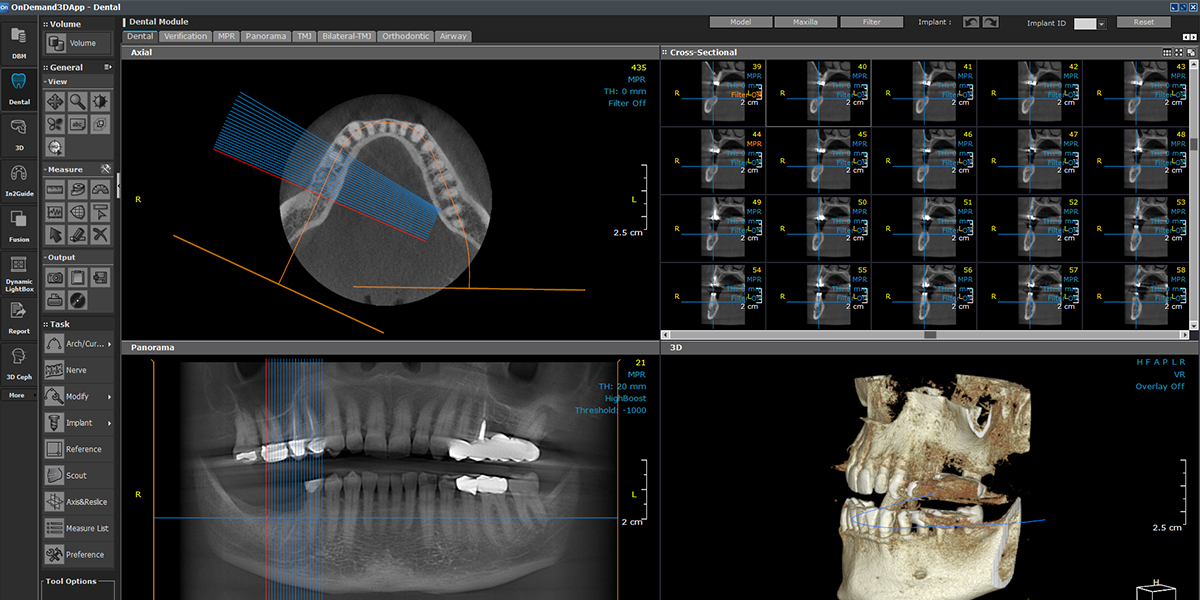 Our Fusion module is a visualization tool for superimposing two sets of DICOM data or for stitching two smaller FOV volumes to create a larger volume. Fusion uses the MI or Mutual Information method,a widely accepted technology for superimposition and stitching.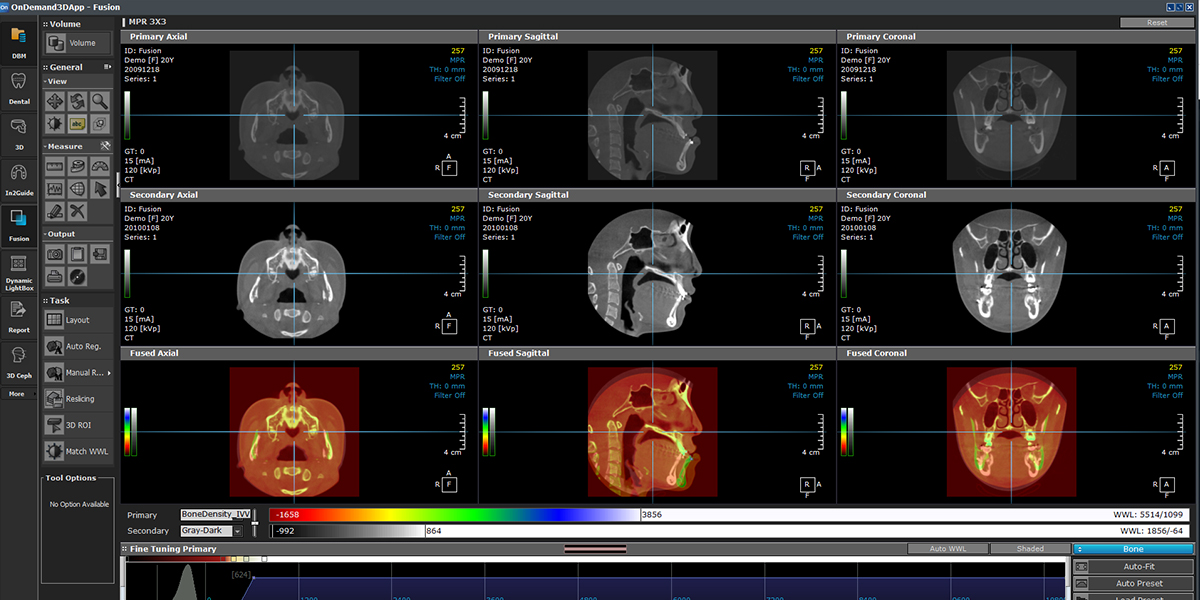 Our 3D Ceph calculates the relative functions between points, lines, and planes in a 3-dimensional setting providing more precise and accurate values for analysis. The user can customize and define the points, lines, planes, and functions for analysis, orthodontic and aesthetic treatment planning.
The user can also superimpose two sets of data, such as pre and post-op data for analysis, as well as use a 2D photo for a 3D volume mapping and generate a 2D X-ray for patient consultation.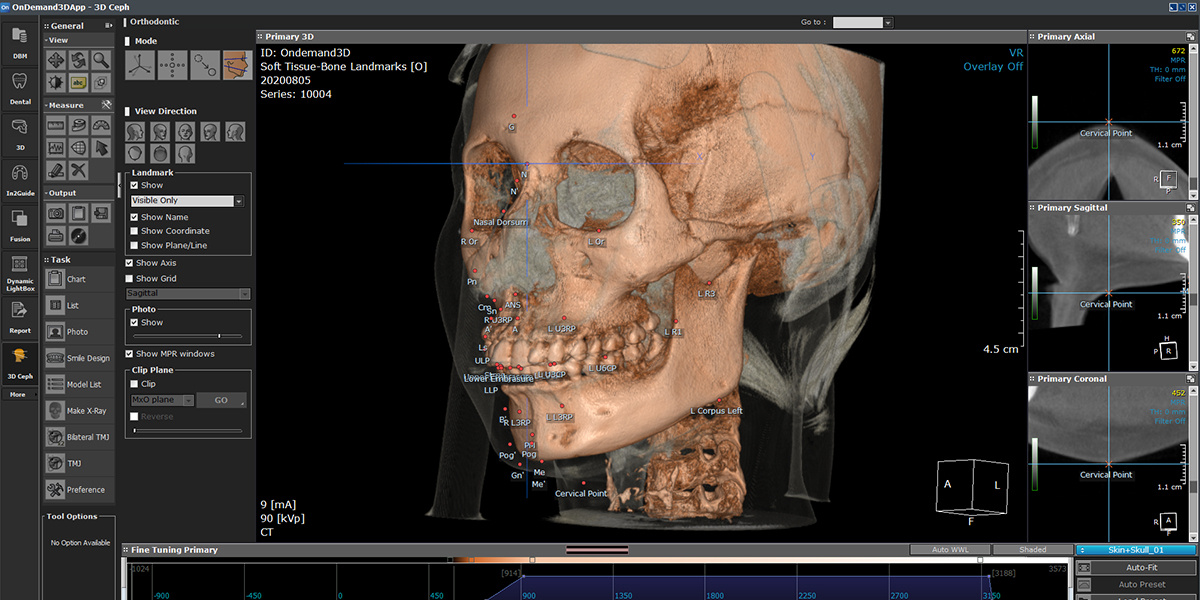 Our In2Guide utilizes OnDemand3D™'s powerful 3D engine to create a 3D volume from DICOM data for an intuitive way to plan your implant surgery. You can turn your virtual planning data into a real custom made surgical template with depth and angle control by ordering directly from In2Guide.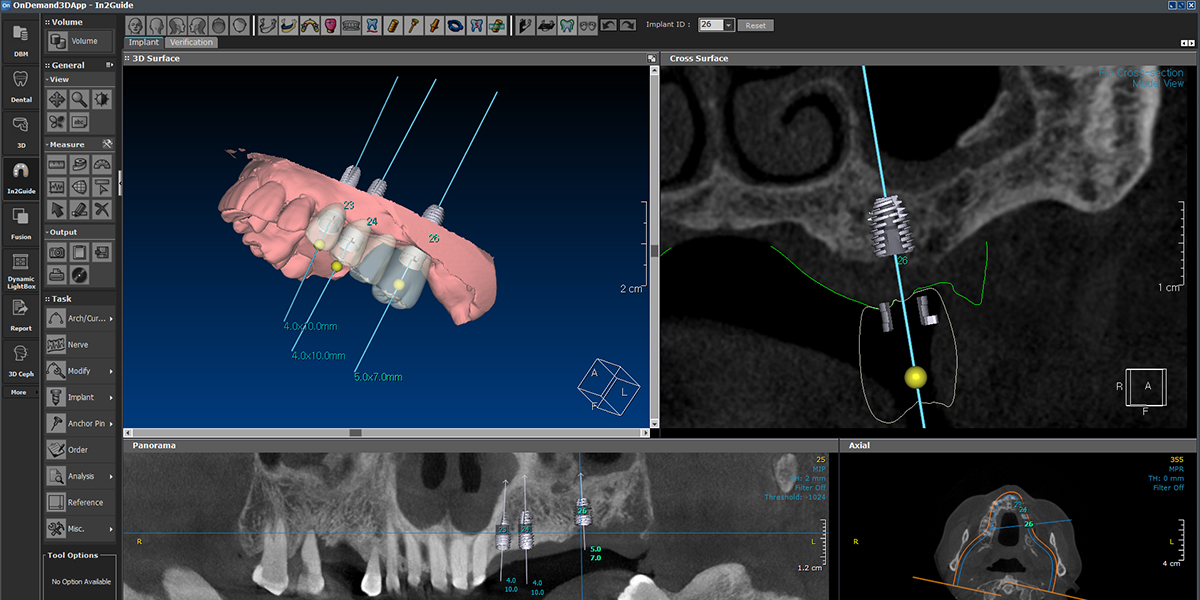 OnDemand3D™ takes integrated database management to a new level with our XImage. Both 2D and 3D dataare integrated into a modality-centered layout with full acquisition capabilities. A powerful tool that converts imported common image files into DICOM format (.dcm) for transmitting to PACS.XImage includes a selection of customizable Filter Presets along with a set of image manipulation and measurement tools.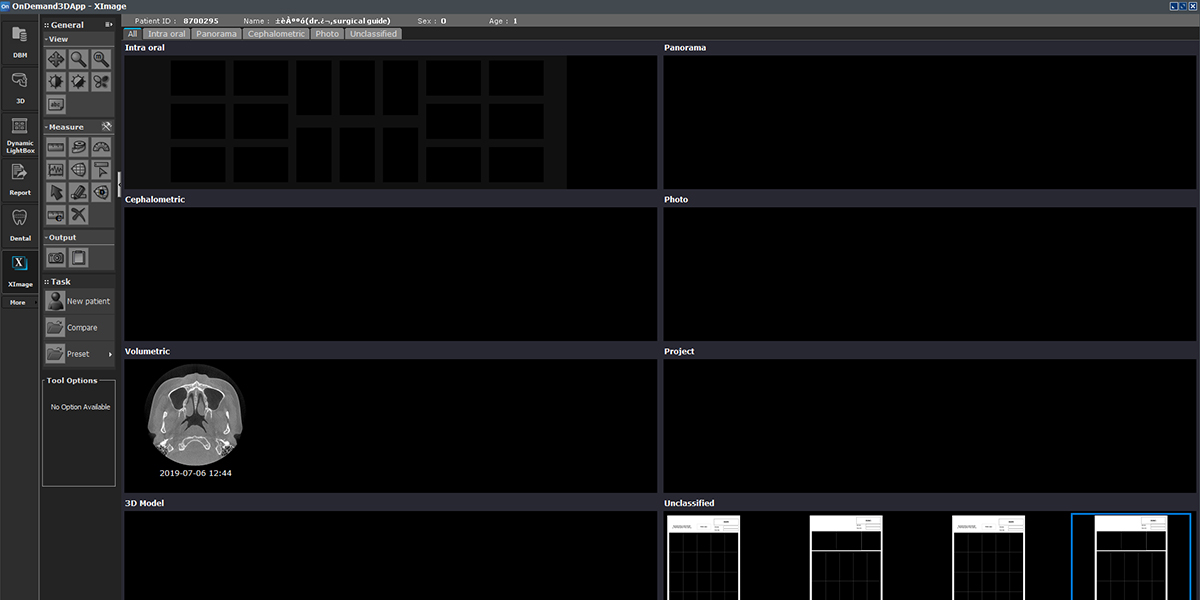 Our X-Report has two main features: the X-Report tool, included in most of the modules on OnDemand3D™ and X-Report Template Designer. The X-Report tool is a user-friendly method of patient reporting, where users will be able to simply drag and drop images from their screen onto a pop-up report template that can then be expanded for further editing. X-Report Template Designer, on the other hand, creates report templates for OnDemand3D™.It allows users to create a specialized report specific to a patient's needs and increase the efficiency of writing a report.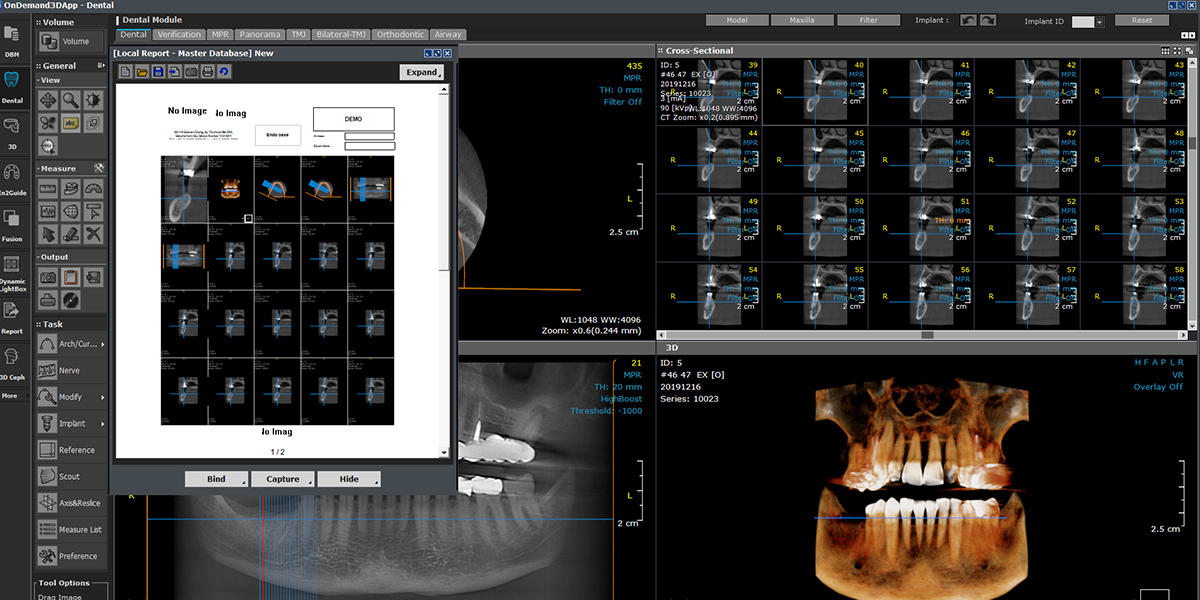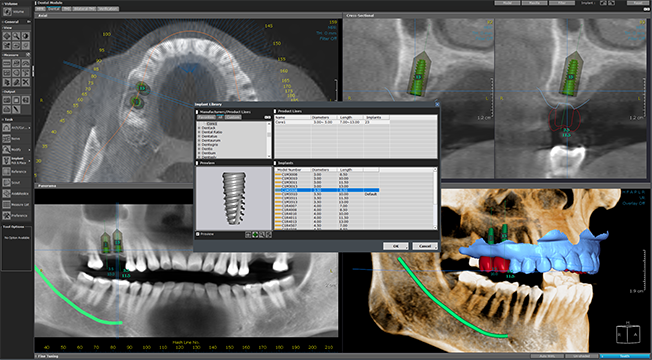 Planning Implant Placement
Implant surgery is one of the most complex and sophisticated areas. Through OnDemand3D, you can analyze the patient's oral cavity in detail, place the implant in the right location, and perform a virtual operation.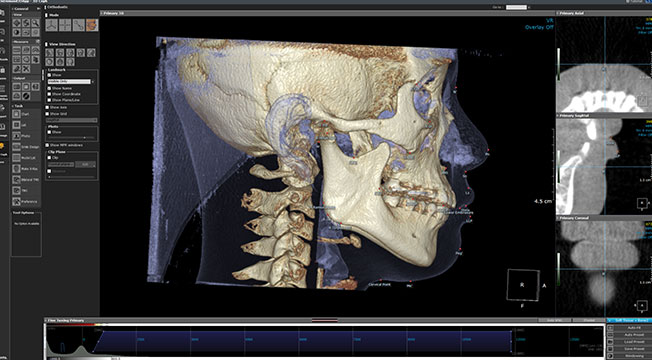 Orthodontics1
More than half of the world's population have disproportionate teeth and maxilla. First, the 3D Ceph module allows you to plan and analyze a surgery or braces placement method. Because improvement in aesthetics is important as well as dental treatment, it helps to increase the trust between the dentist and the patient by showing and explaining the treatment process.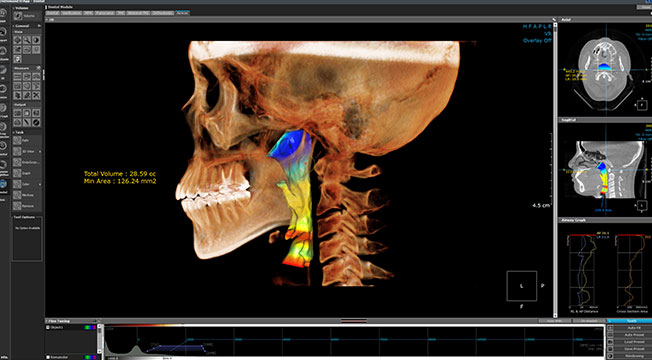 Airway Measurement
With just a few clicks, anyone in the dental field can easily and accurately measure airway volume. We are working hard on technology development so that we can measure more easily and accurately.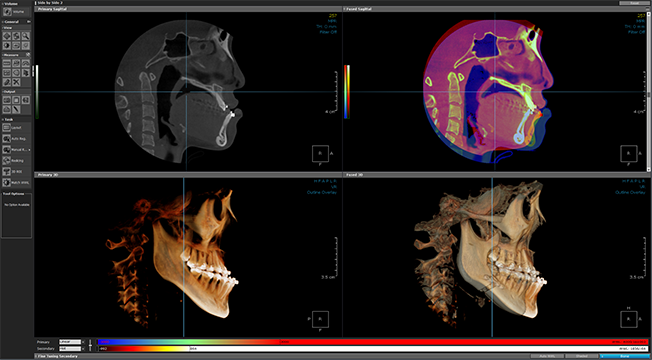 Comparative Analysis
It is very important to check the progress and difference of surgery. The OnDemand3D Fusion module visually shows the patient's condition before and after surgery by superimposing two sets of dicom data, and sophisticated measurements can be performed through multiple options.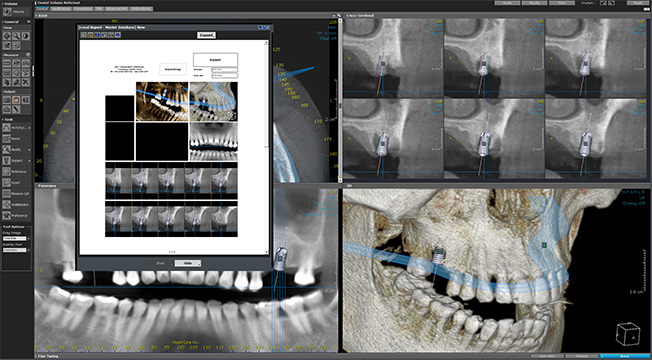 Analysis Report
For imaging centers, dental clinics, dental labs, and educational institutions, there are many advantages to analyze and shared patients' CT results. You can highlight the patient's diagnosis and treatment, and create a customized report.
Implant Library
We have implant libraries from major implant manufacturers around the world, so you can plan and simulate realistic implant surgery. In addition, an implant library can be added.
Package
OnDemand3D™ App is a highly-advanced 3D imaging software developed for dentists, clinicians and research experts for use in the planning and simulation of patient treatment, accurate diagnosis, and advanced research. OnDemand3D™ utilizes DICOM data across modalities to reconstruct 3D volumes by means of the latest and best in 3D technology. OnDemand3D™ App provides specialized layouts, reconstructed images and tools for accurate and precise diagnoses.
It is composed of various modules according to the purpose of diagnosis and treatment of the user.
OnDemand3D

Full Application

DBM, DLB, Report,
3D, Dental

OnDemand3D

-Dental

DBM, DLB, Report
Dental

OnDemand3D

-Server

Application, Server,
Project Viewer

Add-on

Fusion, 3D Ceph, In2Guide,
X-Image, X-Report
OnDemand3D is a product used by major universities and dentists around the world.
It has been providing for over 20 years. During this long time, we have won a lot of trust and love from our customers.
We will provide more varied and innovative dental services.